Cavalier King Charles Spaniel

Toy Breed, Ideally suited for a companion and indoor dog, and very good gundog.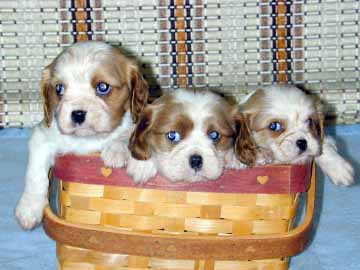 Characteristics: The Cavalier King Charles Spaniel is an active, graceful, well-balanced toy spaniel, very gay and free in action; fearless and sporting in character, yet at the same time gentle and affectionate. It is this typical gay temperament, combined with true elegance and royal appearance which are of paramount importance in the breed. The highly important head is almost flat between the ears; the stop is shallow; the muzzle is well tapered. The eyes are noticeably large, dark, and round, but should never be too prominent. Height: 12 - 13 inches (30-33 cm). Weight: 10 - 18 pounds (4 1/2 - 8 1/2 kg). The coat is long, silky and free from curl. He should be free of trimming and have plenteous feathering. Colors: Black/Tan, Ruby (solid red), Blenheim (red/white), and Prince Charles (tri-color).
History: It was in the 1920s that an inquisitive American, named Roswell Eldridge, queried into the existence of the "Blenheim Spaniels of the Old Type". So acute was his curiosity and so earnest his desire to "preserve" the type that he offered 25 pounds for spaniels representing the "Old Type" at Crufts, England's most prestigious dog show. The breed gained Kennel Clubs status in 1944, and from that point it becomes a Cinderella story. The 1960s saw the breed in the arms of British royalty; the 70s, on the top 20 chart of British breeds; and the 80s, despite the Monroe Doctrine, the breed settling in the White House snoozing with President Reagan. The Cavalier is a soothing dog; he is non-aggressive and never nervous. His congeniality and hardy constitution make him the ideal pet for those who enjoy the company of guests.
Kennel Clubs: FIC, AKC, UKC, KCGB, CKC, ACA